September 2013
Have you Voted?
Your voice is important… make sure it is heard! Every year you have the opportunity to nominate and elect fellow HGC alumni to serve on the Harvard Glee Club Foundation Board of Directors. This year's Board election is being conducted online using BallotBin. If you have not yet received an email from Board President Logan McCarty inviting you to cast a ballot, please let us know at info@hgcfoundation.org.Paper ballots are also available for those who prefer them. Call the HGCF office at 617.547.GLEE (4533) to request a paper ballot. The election runs through Friday, September 20 and results will be reported in the October, 2013 Alumni News email blast.
2013 Harvard Glee Club Foundation Annual Meeting
Notice is hereby given that the Harvard Glee Club Foundation Board of Directors will convene the 2013 Annual Meeting of the corporation on Sunday, October 27 at 10:00am EDT in Conference Room 300H on the third floor of the Harvard Science Center located at 1 Oxford Street, Cambridge, Massachusetts. Business to be conducted at the meeting will include adoption of the minutes of the 2012 Annual Meeting, a review of the fiscal year 2013 Financial Statements, and the installation of newly-elected Directors. HGC alumni are welcome to attend the Annual Meeting as members of the Foundation. Please RSVP by October 18 at info@hgcfoundation.org. (This notice is provided as required by the Harvard Glee Club Foundation Bylaws, Article III, Section 1.a.)
Harvard-Princeton Football Concert Marks 100th Anniversary!
This year marks the 100th Anniversary of the annual Harvard-Princeton Football Concert and we're going all out to pack the house. On Friday, October 25th, we're hoping to fill Sanders Theatre to overflowing with Harvard Glee Club Alumni and raise the rafters with the traditional singing of the football songs. Please note the change in the concert start time. Due to another big Harvard event that evening, the concert will begin at 8:30pm. We'll have more information and a chance to purchase your tickets online as soon as the details are worked out. For now SAVE THE DATE and stay tuned...
The 2013 Honor Roll of Donors is now posted on the Harvard Glee Club Foundation website. Names of the thoughtful donors who supported the Harvard Glee Club Foundation during fiscal year 2013 (year ended June 30, 2013) can be found listed by giving society or by decade. HGCF is truly grateful to all of our generous donors for their thoughtful support during this past year. If we have inadvertently misspelled your name, accidentally omitted you, or otherwise misattributed your gift, please let us know right away at info@hgcfoundation.org. We will be happy to make corrections at your request.
F. John Adams-Era/
1970s
Tours
Gathered for Joint Reunion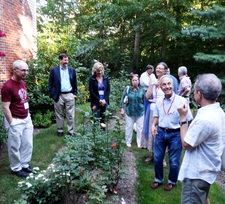 Members of the 1970s HGC Tours led by F. John Adams—1973 (Europe), 1975 (Sweden), and 1978 (North America)—celebrated the 35th Anniversary of the North America Tour and the 40th Anniversary of the Europe Tour at a joint tour reunion last month. After a joint sing in Holden Chapel on Saturday, tour members took a shuttle to the Norwell, MA home of Bernie Kreger for drinks and a festive Reunion Banquet. Many gathered again the next morning in Holden Chapel for a Sunday Brunch to say their au revoirs until the next big tour reunion.
HGCF Website Promotes Ongoing Choral Music Opportunities
Don't forget, the "Choral Music Opportunities" page on the HGCF website is a great place to find information about where your fellow HGC alumni are singing and learn about upcoming concerts, auditions, and more.
Choruses with HGC alumni are invited use this page to recruit new members, announce auditions, and promote upcoming concerts. Send information to info@hgcfoundation.org for inclusion on the page.
Mark Your Calendar:
October 3-15
Harvard Glee Club Alumni Chorus trip to Sendai Japan
October 25
Harvard-Princeton Football Concert – Sanders Theatre, 8:30pm (note time change!)
This is the 100th Anniversary of the Annual Harvard-Princeton Football Concerts! Save the date and plan to join us in Cambridge for the Centennial Celebration of this much-loved tradition!
October 27
Harvard Glee Club Foundation Annual Meeting – Science Center 300H, 10:00am
December 6-7
2008 HGC Sesquicentennial Tour Reunion
Members of the 2008 Summer Tour commemorating the 150th anniversary of HGC will gather in conjunction with the "Christmas in Sanders" concert. A pre-concert dinner and Saturday repertoire sing and lunch are being planned. More information as it develops…
December 6
Christmas in Sanders – Sanders Theatre, 8:00pm
Join HGC and RCS for a celebration of the season.